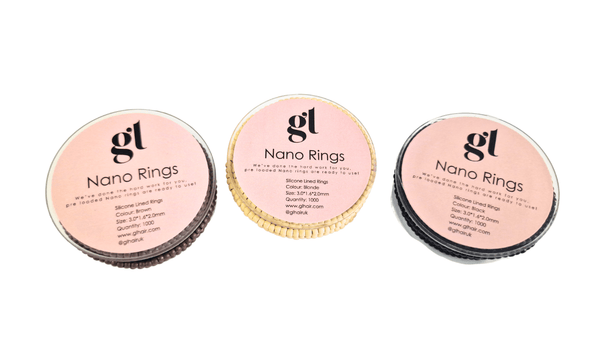 FREE
SHIPPING
100% MONEY
BACK GUARANTEE
ONLINE
SUPPORT 24/7
Availability:
10 Many In Stock
Features:
Premium Silicone Material: Our Nano rings are meticulously crafted from high-quality silicone, ensuring exceptional durability and flexibility for a secure hold.
Pre-loaded Design: The rings come pre-loaded onto a specialized applicator, eliminating the need for manual ring threading, and saving valuable time during installation.
Seamless Attachment: Achieve a virtually undetectable and natural-looking hair extension attachment with these nano rings, providing a seamless blend with your natural hair.
Gentle and Damage-Free: The soft and smooth surface of the silicone rings minimizes friction and potential hair damage, allowing for comfortable and long-term wear.
Superior Grip: The innovative design of our nano rings offers an enhanced grip on the hair strands, providing reliable and sturdy support for the hair extensions.
Long-Lasting Performance: Engineered for durability, these nano rings are designed to withstand daily activities and maintain a secure hold for extended periods.
Effortless Removal: The rings can be easily removed without causing discomfort or damage to the hair, ensuring a hassle-free removal process.
How to Use?
Select a small section of hair where you intend to attach the hair extension.
Retrieve a pre-loaded silicon nano ring from the applicator, ensuring it is securely positioned.
Gently place the hair extension strand inside the ring, sandwiching it with your natural hair.
Utilize a hair extension plier to carefully squeeze the ring, ensuring a firm and secure grip on the hair extension.
Repeat the process for each desired attachment point, maintaining an even distribution of extensions.
To remove the nano rings, employ a hair extension plier to open the ring and slide it off the hair, taking care to avoid tugging or pulling.
Note: It is recommended to acquire professional assistance or undergo appropriate training before utilizing this product to ensure optimal results.